This contract is for purchase of agricultural lawn and grounds equipment, repair parts, and accessories.
Categories:
1 - Handheld Equipment (chainsaws, string trimmers, leaf blowers, etc.)
2 - Walk-behind Equipment (push mowers, rototillers, edgers, snow blowers, etc.)
3 - Riding Mowers Up to 36 PTO Horsepower
4 - Lawn and Garden Tractors up to 30 PTO Horsepower
5 - Equipment for Riding Mower, Lawn and Garden Tractors
6 - Residential Front Mowers and Equipment
7 - Commercial Walk-Behind Mowers and Equipment
8 - Commercial Zero-Turn Mowers and Equipment
9 - Commercial Front Mowers and Equipment
10 - Commercial Wide Area Mowers
11 - Industrial Mowers
12 - Compact Utility Tractors up to 65 PTO Horsepower
13 - Equipment for Compact Utility Tractors
14 - Utility Tractors up to 90 PTO Horsepower
15 - Equipment for Utility Tractors
16 - Utility Vehicles up to 65 PTO Horsepower
17 - Equipment for Utility Vehicles
18 - Agricultural Tractors, 2x4 and 4x4 70 to 140 PTO Horsepower
19 - Agricultural Equipment (Less Tractor)
20 - Golf & Turf
21 - Commercial Lawn Shredders, Mulchers, Chippers and Grinders
22 - Skid Steer Loaders up to 55 HP
23 - Equipment/Attachments for Skid Steer Loaders
24 - Compact Track Loaders up to 70 HP
25 - Equipment/Attachments for Loaders
26 - Mini Excavators up to 70 HP
27 - Equipment/Attachments for Mini Excavators
28 - All Terrain Carriers up to 50 HP
Regions:
This contract was also awarded regionally, please see the map below for a deliniation as to which counties are in which region.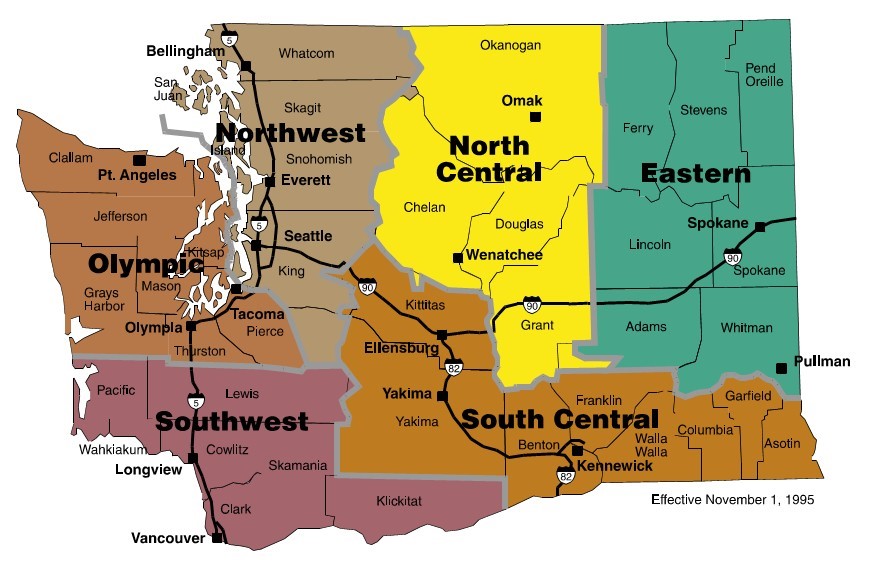 Northwest Region
: San Juan, Whatcom, Skagit, Island, Snohomish, King, Pierce Counties
Olympic Region
: Clallam, Jefferson, Kitsap, Mason, Grays Harbor Counties
Southwest Region
: Thurston, Pacific, Lewis, Wahkiakum, Cowlitz, Clark, Skamania Counties
North Central Region
: Okanogan, Chelan, Douglas, Kittitas, Grant Counties
South Central Region
: Yakima,Klickitat, Benton, Franklin, Walla Walla, Columbia, Garfield, Asotin Counties
Eastern Region
: Ferry, Stevens, Pend Oreille, Lincoln, Spokane, Adams, Whitman Counties
---
How to Use this Contract
1. Review the Contractor section below for information on:
Contractor's Contact Information (Name, Email, and Phone number)

Links to their MSRP/Price lists

Contract and Amendment information

Description of awarded categories and manufacturers by region

2. For information on the discount off of MSRP offered by awarded Contractors and by category see - Discount Off Price Sheet

3. Contact the sales representatives directly to consult about their products and services.

4. Reference DES Contract No. 05218 on your Purchase Order.

5. Contact the Contract Administrator listed below with any further questions.


---
Contractor Information

View the Contractor Information document to see which products and price lists are available on the contract.


---
Notes & Updates:


Effective January 15, 2023 through January 15, 2024, Western Equipment Distributors may charge up to 10% as a line item surcharge for Toro products.

September 2022 - Deere & Company updated thier MSRP pricing.

October 2022 - Makita has updated pricing and contact information has changed

October 5, 2022 Brimtractor had an update to thier contract information

Please be informed that effective January 2023, Vendor W15705- Fiber Marketing International, Inc will no longer be selling Bandit equipment. Vendor confirmed no other changes to exsiting equipment on Contract