This contract is set to expire. Enterprise Services is developing a new solicitation to replace this contract.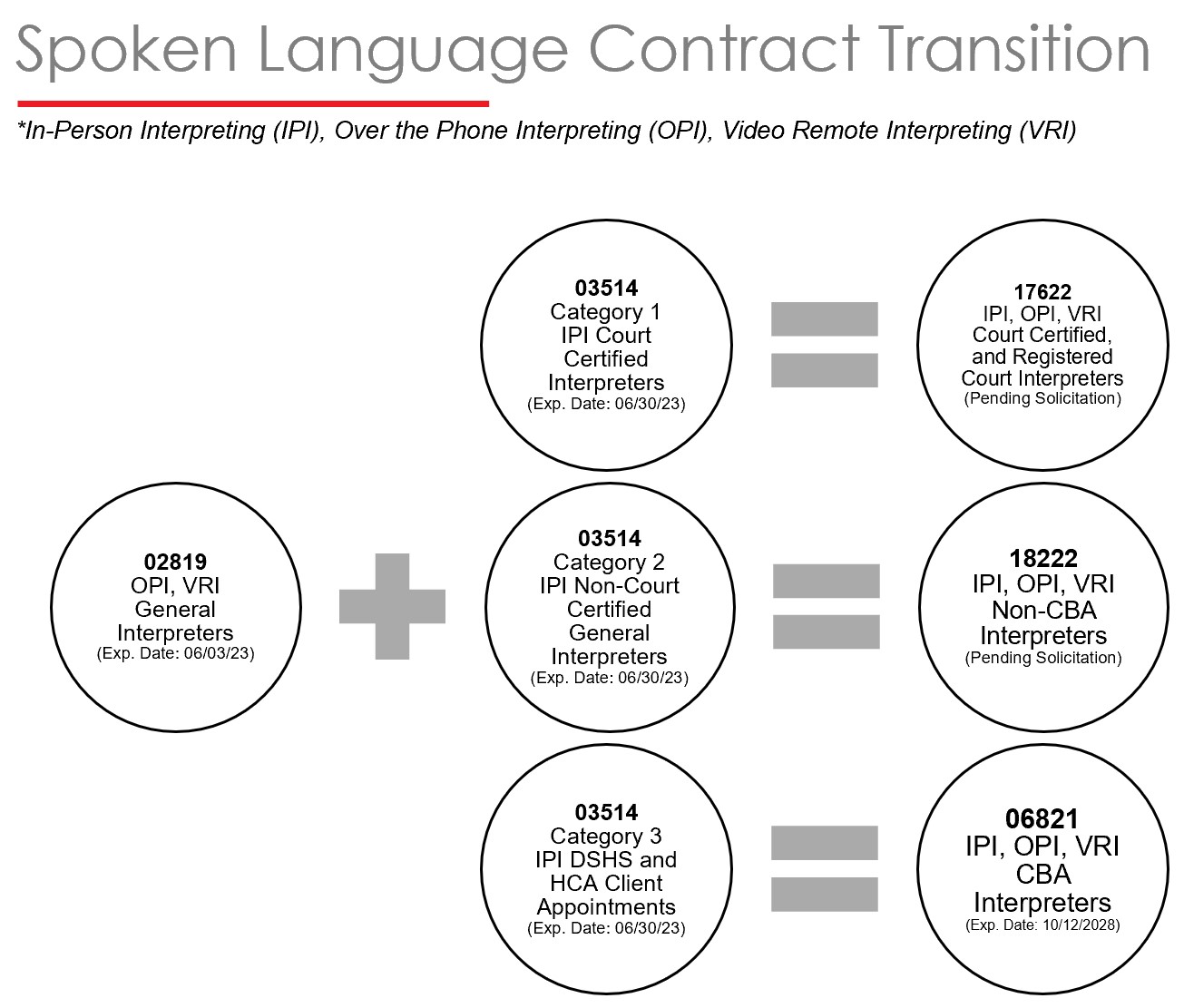 ---
CONTRACT SCOPE:
This Statewide Contract is for Spoken Language Interpreter Services for In-Person Court Certified, Non-Court Certified and Department of Social and Health Services (DSHS) and Health Care Authority (HCA) client appointments.This Statewide Contract is constructed with three (3) categories:
Category One -
Court Certified: In-Person interpreter(s) who perform the service must be certified by the Washington State Administrative Office of the Courts (AOC).
Category Two -
Non-Court Certified: In-Person (standard) interpreter(s) must be certified/authorized by DSHS's Language and Testing Certification Office.
Category Three -
Collective Bargaining Agreement (CBA): CBA requirements specific to the Department of Social and Health Services (DSHS) and Health Care Authority (HCA) client appointments only. Rates are subject to minimums of one hour or two hours of service. 82 languages available in all 39 counties. To access the current CBA for interpreters, copy and paste the following link into your browser's address bar:
https://www.ofm.wa.gov/sites/default/files/public/labor/agreements/19-21/nse_lap.pdf
. In-Person Interpreter(s) must be certified/authorized by DSHS's Language and Testing Certification Office.
---
How to Use this Contract
1. Review the Contractor Information section below to find pricing, product offerings, and information for each Contractor.
2. Contact the sales representatives directly to consult about their products and services.
3. Reference DES Contract No. 03514 on your Purchase Order.
4. Contact the Contract Administrator listed below with any further questions.
Ordering Instructions
CLICK HERE
to view the Ordering & Pricing Instructions for this statewide contract and learn more about available services.
---
INTERPRETER QUALIFICATIONS
: All Interpreters must be skilled to industry standards, expectations, and trends. Interpreters must have the proper certification based on the interpreting type of service. Below are the three main interpreter types of language access statewide contracts will require. These requirements are in alignment with
RCW 39.26.300
.
Spoken Language Interpreter: Acceptable industry standards and expectations include the Washington State Department of Social and Health Services (DSHS)
Language Testing and Certification Program (LTC)
or Authorization, guidelines outlined by the American Translation Association (ATA) for Interpreters, the Certification Commission for Healthcare Interpreters, or the National Board for Certification of Medical Interpreters. Interpreters trained through accredited higher education institution (university or college) programs, which are widely accepted by industry experts, the interpreter community, and by Washington State Purchasers are also acceptable. DSHS LTC has partnered with three additional testing providers whose test will be accepted by DSHS LTC to certify medical interpreters starting August 1, 2022. Visit the
DSHS LTC testing
page for more information.
---
PUBLIC NOTICES
: Information about the services we offer under the suite of Language Access Statewide Contracts can be found on the DES website under
Language Access Contracts
.
---
DES LANGUAGE ACCESS PURCHASER MEETINGS
: As an additional resource, we are inviting eligible purchasers to monthly meetings to answer your questions, connect with other purchasers and get to know your needs around these contracts. Virtual meetings will be held the last Wednesday of every month. All eligible purchasers who use statewide contracts are welcome to register. To register please send an email to
DESLanguageAccess@des.wa.gov
.
---
DES has ensured this procurement meets
RCW 39.26
, follows current
State of Washington Procurement Policies
, follows
DES procurement process
, and DES has determined that entering into this contract will be in the best interest of the State of Washington.